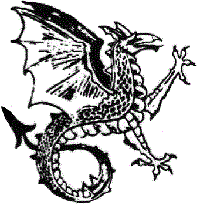 Cast your mind back to 1983. Wyvern Swim & Sun Club (WSSC) came into being as a direct result of the demand outstripping supply. Many paid-up CCBN members were attending a local naturist swim, but found it difficult to join a club as they all seemed to be oversubscribed.
​
Betty and Graham, established members of Pines Outdoor Club, helped run the swim sessions and were aware that a new club would be more than welcome. As Graham's retirement was imminent, he vowed to find a suitable venue quite undeterred by tales of such searches which stretched into years.
​
After knocking on farmers' doors and inquiring about seemingly vacant plots of land, answering adverts, etc, six weeks from the start of the search he struck lucky. It was clearly a case of "the right place at the right time" and through one of those adverts he was able to view the site.
The site was an ancient hill fort, possibly a satellite to others in the Malvern Hills. These forts were built as defensive structures by the ancient Britons in the first millennium BC during the Late Bronze and Early Iron ages, and used until the Roman Conquest.
​
It was a wilderness, overgrown with six-foot high bracken and bramble, with no water or electrical supply, and no shelter; just a hilltop with all-day sun, good drainage (red sand base) and wonderful rural scenery all round. Moreover, the owners were amenable in the use of the land for naturist activities and were willing to sell. So Graham immediately negotiated a bank loan to purchase.
​
An emergency meeting of prospective members was called, and the small group raised the deposit in interest-free loans, to be repaid when funds were available. Later, loans from members and a bank loan made the enterprise financially viable. As subscriptions came in, the loans were repaid with grateful thanks.
​
In no time at all, "muscle" was forthcoming and the site was cleared, rows of trees were planted for screening, and others in the central area for shade. A clubhouse and shed were built and many other items were added which increase the comfort and security of the club.
​
Wyvern became as near to heaven as you would likely find on Earth.
​
Then, in 2008, came disaster. One night the clubhouse burned to the ground. Within a short time, the insurance money and a grant from the National Lottery resulted in a new and larger clubhouse being erected.
​
The latest improvement to the site is a new toilet/shower block to replace the existing old facilities and which is, at the time of writing, being outfitted by the members.
​
Wyvern is going from strength to strength.